Who or what is Plasmadyne?
Plasmadyne has its roots in it's founder James Elston's career in the cartoon animation of the late 70s and 80s. This was the waning of the days when animation was drawn on paper with pencils for TV and motion pictures. James 'escaped' Los Angeles in 1986 heading to Grass Valley just before the movie "Who Framed Roger Rabit" came out revitalizing the sagging animation industry in this country. On arriving in Grass Valley he discovered computer graphics and animation on the early Commodore Amiga computer – cutting edge for its time.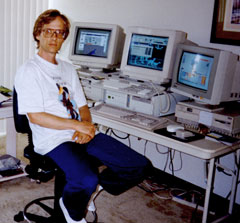 In the early days when Adobe Photoshop was only available on Macs, James began beta-testing revolutionary 3D animation software for Martin Hash, and began a career in 3D animation with clients such as Apple Computer and OMSI, and computer animated music videos for The Union Label.
So Plasmadyne is a melding of  the low tech art in paper, pencil and paint with the modern high technology of the digital world. Plasma: A high energy state of matter – the fourth state of matter, the stuff of   lifeblood that pulses through our body and: Dyne: from dynamic, dynamo.
An interesting side-note: There was a company out there called Plasmadyne that created equipment for the ceramic coating of rocket-nozzles for the aerospace industry. As far as I know, they  never had a website, but a few times a year I get calls or emails from Sandia Laboratories, Los Alamos or some other government agency asking if I can repair or sell them some new equipment. My standard reply these days is to say, "No, but if you pay me enough I'll learn!"
We here at Plasmadyne work to provide dynamic, state-of-the-art and fun Internet solutions to our clients in an affordable and profitable manner. We accomplish this by combining the latest software and multimedia technology with our creative design process to meet customer requirements in a timely, cost-effective fashion for return on Investment (ROI).
Plasmadyne can walk you through every step of the way of having your company or personal website from cost-effective, reliable, domain registration and web-hosting solutions. We can setup your email accounts and databases and a shopping cart from a simple PayPal "Buy Now" button to a complete e-commerce shopping cart with a payment gateway.
Need help defining the purpose of your website? We can consult with you and help you come to a clear understanding what you want to present to the online world.
Do you want to manage the content on your website to keep it relevant and want to keep it simple? Using WordPress, Plasmadyne give you totorials to show you how you can do it yourself so that you edit what you need when you need it simply and cheaply.
Does your website need to work on Smart Phones? We can do it! Contact us today!